There's an island in the distance, I hear its beautiful... The water crystal blue... Waves so gentle... Sand so soft... The breeze blows gently, the palms sway back and forth... That island is just up ahead, keep heading north... Large grey rocks and deep blue waters will lead you to that island...The island of forever.... Where the maybes don't turn into never,and dreams never become doubts... See it in the distance, it looks close enough to touch. Smell the salt in the air.... Drift away... Let it all go... Let it all go there...Safe and sound, leave all of your troubles behind... Get to that island... Get lost in time. In a time where everything is nothing and nothing is everything...The island of lost dreams and broken sorrows..
The island of hope and shattered promises. Full of beauty, full of lies, full of enchantment.. Yet, full of cries...Cries of disbelief, cries of laughter, cries of heartache, cries to just escape... Escape from all insanity to sane or from sane to insanity. The island... Is pure vanity..Step into the water so peaceful and serene... So crystal clear and warm... So unsettling but enticingly inviting Let it invite you in...Going further out... Its getting deeper..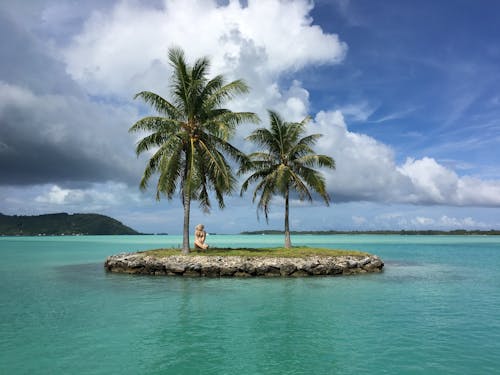 But the island... The island is just up ahead. The current growing stronger that beautiful water getting darker.. Nothing surrounds me now.. No light.. No sound...Deep darkness below me and all around, I'm growing weaker.. My arms and legs tired. Don't think I can go much farther but the island, the island is so promising. I've got to get there, someway somehow.. I can not give up now... Please not now..All of my hopes,dreams and effort have been put into getting to this island...
The island, so full of beauty, so full of grace, I've got to make it to that peaceful and wonderful place...I catch a final wind, a breath of that salty air... I can almost taste it, am I almost there? A sudden urge to swim faster... But my legs just keep getting heavier... I just can't swim anymore....The island... But the island.. In the distance... Just up ahead...Out here in the deep... My arms now weak.. I try to cry out.. My voice.. My voice won't speak..I begin to sink... All of the salty air I once breathed... Is now set free... Now I belong to the sea...The sea of broken promises and empty dreams. It has gained another lost and once hopeful soul... Trying to reach her dream that lies just beyond the sea.... Her dream to just catch a glimpse of that island.... That island…